This lovely recipe satisfies several food blog hops. Since I'm new to this game, I hope I get them right. This recipe is a prime example of the ease of cooking with Mark Bittman. His cookbook,
How to Cook Everything 2,000 Simple Recipes for Great Food
is my new favorite. I must confess that my blog peep, Pam @
Sidewalk Shoes
is the one who introduced me to this awesome cookbook. Thanks Pam!
Let's get to the important part.....the recipe.
Poached Pears with Vanilla
Time: about 20 minutes, plus time to cool
Pears can be poached at any stage of ripeness, with sugar added to the cooking water making up for any lack of fully developed natural sugars. So even with an unripe pear, this becomes an impressive, light dessert.
Other fruits you can use: apples, apricots, peaches, nectarines, kumquats, or pineapple.
1/2 Vanilla bean, split lengthwise, or one 3-inch cinnamon stick
1) Combine the sugar and vanilla or cinnamon with 5 cups water in a medium saucepan (large enough to accommodate the pears) over high heat. Peel the pears leaving their stems on. Core them by digging into the blossom end with a melon baller, spoon, or paring knife.
2) Lower the pears into the boiling water and adjust the heat so that it simmers gently. Cook, turning the pears every 5 minutes or so, until they meet little resistance when prodded with a thin-bladed knife, usually from 10 to 20 minutes. Turn off the heat and allow to cool in the liquid.
3) Transfer the pears to serving plates. (At this point, you may cover and refrigerate the pears for up to a day; bring to room temperature before serving.) Reduce the poaching liquid to a cup or less (this can also be stored for a day), then spoon a little over each pear before serving.
You can see the beautiful red pears I selected for this recipe. I did switch up the order of peeling and coring. I figured it would be easier to dig the core out before I peeled the pears. I'm so glad I did. The skin gave me a better hold on the pear. Otherwise, it would have been slickery.
Here are the tools I used for this recipe:
Pretty basic. This coring tool is a Pampered Chef product. They no longer have this exact item. But they do carry something similar.
The Core & More
. I use this for strawberries, tomatoes, and now, pears. If you're interested, I'm having a PC catalog show that is open through the end of the month. Your order will be shipped directly to you. Email me for details.
I'm at the "cool in the liquid" stage of this recipe. After the poaching liquid is reduced, I'll take a photo of the finished product. In the meantime, here's what they looked like when they were simmering away. You can see the vanilla bean and seed specks floating in the poaching liquid.
Thank you so much for stopping by and visiting.
This will be my entry for Make It With ...... Mondays #2 Vanilla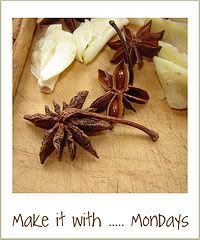 This is also my entry for Tackling Bittman Recipe Blog Hop here:

and here:

and for the Mark Bittman Food Matters Cookbook giveaway at
girlichef
.
Peace and Joy,
Susan
Philippians 4:6 (NKJV) Be anxious for nothing, but in everything by prayer and supplication, with thanksgiving, let your requests be made known to God;