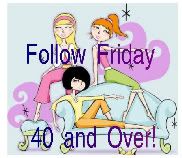 Exactly what is a bibliophile? At first glance, I might think it refers to a person who studies the Bible extensively. Nope. According to Dictionary.com, a bibliophile is a person who "loves or collects books, esp. as examples of fine or unusual printing, binding, or the like." Yes. That can be said of me. I do love books and am thankful I can now read books on line and save bookshelf space. Actually, I think I'm more a reader. "A person who reads."
I'm joining Mocha with Linda this week and Follow Friday 40 and Over with JAVA at Never Growing Old.
Here's Linda's prompt: Did you like to read when you were a child? What were your favorite genres, books or series? Did you read books because of the author or because of the title/plot? Did you own many books? Did your school distribute the Scholastic book orders (or some other type)? Did you visit the library often? Was there a summer reading program when you were young, and did you participate? Do you have any particular memories of your school libraries? What were your favorites and least favorites among the classics (the ones high school English teachers assign!)? If you didn't like reading, do you like it more today than you did then?
My interest in reading changed dramatically when I was in grade school. Probably first or second grade. My teacher was a wonderful "out loud" reader. She brought stories to life. She brought characters to life. When she read to us during story time, she became the cast of characters. She was very animated in her body language and speech. In my mind's eye, I could "see" the farm, the pig, the goose, the spider. I could "feel" their excitement, their curiosity, their sadness. The book? Charlotte's Web by E. B. White.
Over the years, the genres of books I chose has changed. I used to be so hung up on science fiction. Then it was mysteries. For a short time, I read romance novels. Now? I enjoy a book that has adventure with a little mystery, and romance mixed in.
I still go to the library. I love going to the library. I am so blessed to have two library systems available to me. The public library system which today is so different than when I was growing up. Nowadays, I can get a book from any library in their affiliated system. I also have access to the university library system. Which is similar to the public library system only any university library in the state. Pretty stinkin cool if you ask me. Oh the resources available! lol.
My goal is to get the grand-boy more interested in reading. His generation has their nose stuck in video games via the X-Box or Wii, or PS3 or DS or they are in front of the TV watching some politically correct programming that has in-your-face "diverse" lifestyles. That's all I'm going to say about that!
Reading is knowledge. Knowledge is power.
What are some of your favorite books? Do you have a particular genre that you lean towards? Maybe you're not a reader. Please leave me a comment or join in at Mocha with Linda.
Peace and Joy,
Susan
Romans 5:3-4 (NIV) 3Not only so, but we also rejoice in our sufferings, because we know that suffering produces perseverance; 4perseverance, character; and character, hope.