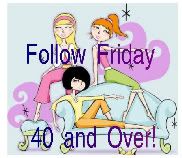 Linda hosts this every week. Christmas has been the theme. Lights. School programs. Parties. This week she wants to know about our Christmas memories related to presents. I'm also joining JAVA over at Never Growing Old for her wonderful FOLLOW FRIDAY 40 and OVER.
When did you open Christmas presents when you were growing up? Christmas Eve or Christmas Day? If you traveled, did your parents take the gifts, or did you open them early or late? Did your parents have Santa leave presents? Were they wrapped or unwrapped? Did you have stockings? What was generally in those? Were gifts simple and practical or more extravagant? Did you give presents to your parents and siblings? Were they homemade or purchased? If purchased, did you pay with your own money or did your parents pay? What are memories of special gifts you received? Did you ever peek and find out what your gifts were ahead of time? Did presents gradually appear under the tree in the days leading up to Christmas and were you allowed to touch/shake them?
There are many memories over the years. Whether we were at home or celebrating with relatives far away, we always opened gifts Christmas morning. I have lived all my life away from family. Some years we stayed at home. Other years we traveled to family.
I still remember the excitement of waking up before dawn to see what Santa had brought. We were not allowed to go near the tree until everyone was up. My dad, bless his heart, would have been up late putting together this toy or that bicycle. He knew we were excited to get to the gifts. But seriously. Who wants to get up after only a meager few hours of sleep. Of course, as we got older we slept in later. At least till it was actually dawn. lol
One year I accidentally found the gift hiding place. I was 12 or 13. I couldn't help myself when I ran across them. I looked. It was the most disappointing Christmas ever. There were no surprises. I think that's part of the excitement of Christmas. The suspense. I was not allowed to handle any gift under the tree. Whether it had my name on it or someone else's. I reached a point where I had an uncanny ability to guess the package contents.
This photo is clearly from Christmas past. We are at my grandparents house. My mom's parents. My brother, me, my uncle Larry, and my aunt Carla in front of the tree. Carla and I are five months apart. Crazy isn't it? My mom and grandma were pregnant at the same time. Carla and I grew up more like cousins or sisters. Anyway. Clearly, we've already opened our gifts. I'm the two and a half year old with the death grip on the doll. It looks like my uncle Larry scored big with what look like skis. Carla has a Suzy Goose. I don't even know what that is. There are two big trucks and several stuffed animals too.
Thank you so much for reminiscing with me. Do you have a Christmas present past to share? Leave me a comment or hop on over to
Mocha with Linda
and link up.
Peace and Joy,
Susan
Luke 1:46-47; 49 (NKJV) 46 And Mary said: " My soul magnifies the Lord, 47 And my spirit has rejoiced in God my Savior. 49 For He who is mighty has done great things for me, And holy is His name.